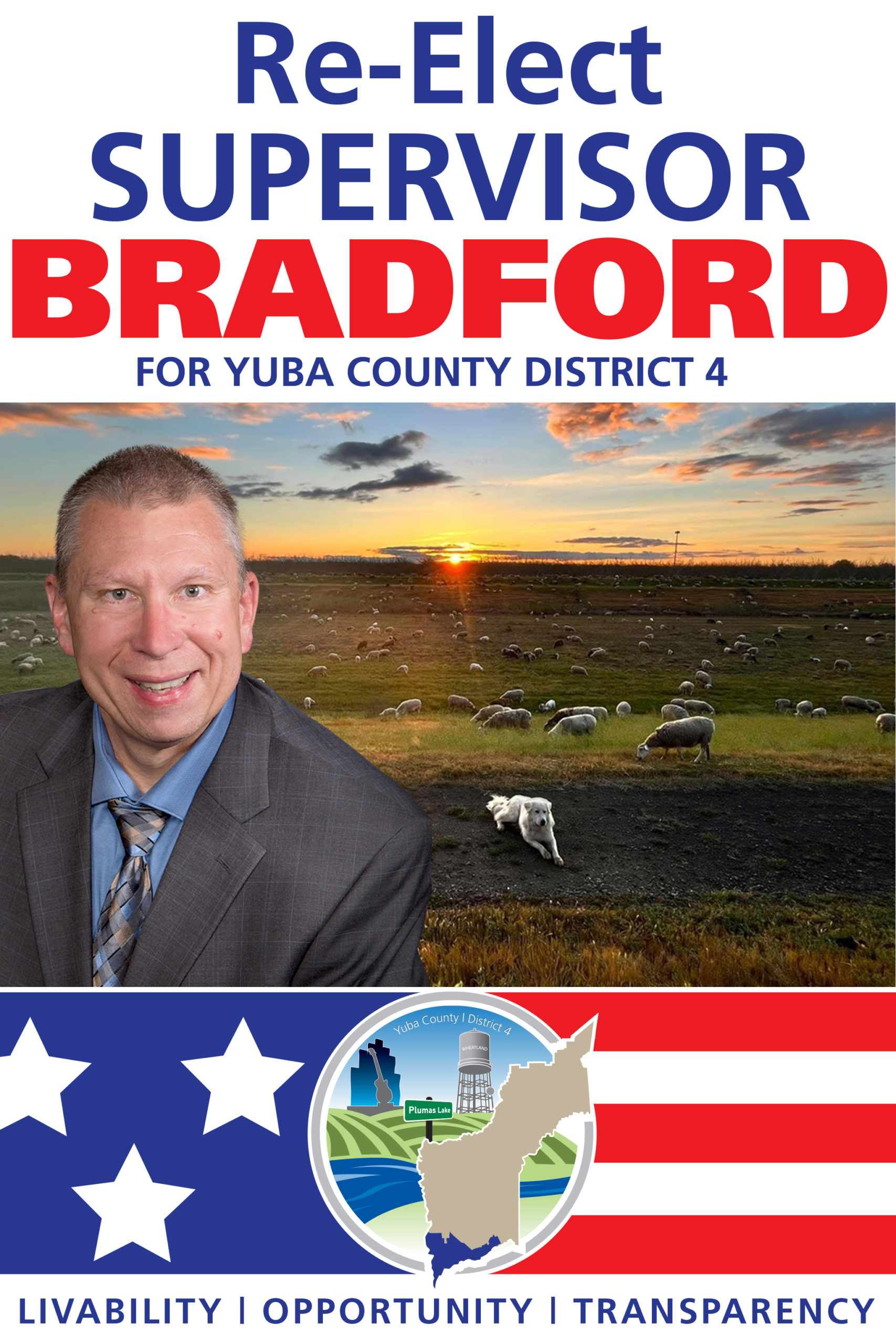 #Vote4Bradford #Bradford2024
It's a privilege and an honor to represent you, and we've achieved a lot together in the last 7 years. 
But there's more to be done, and I'm committed to continuing to represent you, focusing on livability, opportunity, and transparency for Plumas Lake, Wheatland, and all of Yuba County. 
That's why I'm excited to announce I'm seeking re-election in 2024.
I'm committed to facing our challenges and capitalizing on our opportunities to make Yuba County a great place to live, work, and play.
For more information, please visit www.vote4bradford.org.
Supervisor Bradford's Blog
A bit about Supervisor Bradford...
Supervisor Bradford was elected in November 2016 and took office on January 10, 2017.  He was re-elected in March 2020 and began his second four-year term on January 4, 2021.
Gary and his wife Jennifer live in Plumas Lake with their two children, Justin and Megan. Gary graduated from the University of California at Davis in 1996 with a Bachelor of Science degree in Computer Science.  Before being elected as Supervisor, he served on the Reclamation District 784 board from 2008 - 2010 and the Olivehurst Public Utility District Board from 2010 - 2016.
Supervisor Bradford represents Yuba County on the following boards/commissions:
And serves on the following subcommittees of those boards/commissions:
Chair of SACOG Land Use & Natural Resources Committee (LUNR)
Member of the SACOG Mega Region Working Group
Member of the SACOG Strategic Planning Committee (SPC)
Member of the NACo Telecommunications & Technology Committee (T&T)
Member of the NACo Rural Action Caucus (RAC)
Member of the CSAC Housing, Land Use and Transportation Policy Committee (HLT)
Supervisor Bradford is chair of the Yuba Water Agency Board of Directors and serves on the following Water Agency Committees:
Project Operations & Development (POD) Committee
And represents Yuba Water Agency at the following external organizations:
Northern California Water Association (NCWA) & the NCWA Executive Committee
Association of California Water Agencies (ACWA)
Association of California Water Agencies Joint Powers Insurance Authority (ACWA JPIA)
Supervisor Bradford serves on the following internal County Committees:
Broadband Workgroup
Yuba County Disaster Council
Yuba County In-Home Supportive Services Public Authority
And previously represented Yuba County on the following:
California State Association of Counties (CSAC)
Feather River Air Quality Management District (FRAQMD)
First 5 Yuba
Oroville Dam Advisory Committee
Regional Waste Management Authority (RWMA)
Sutter Yuba Behavioral Health Advisory Board (BHAB)
Yuba Sutter Chamber of Commerce Government Affairs Committee (GAC)
Yuba County Children's Council
Yuba Sutter Food Bank
Yuba Sutter Transit [alternate]